The Weekend Orchestra with the BBC Philharmonic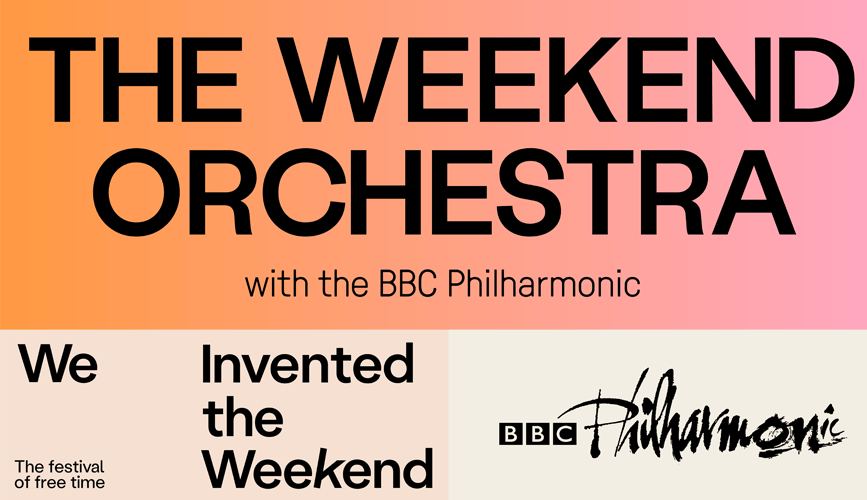 Music, performance and trying new things are what many people choose to do at a weekend. And what better way to do this than a large-scale, joyful community performance at We Invented the Weekend, led by MediaCity's very own house band, the BBC Philharmonic, that will celebrate the amazing history of MediaCity and Salford Quays, and which we need YOU to take part in.
You might play the spoons or the sitar, a trumpet or a triangle. You could be part of a choir or just love belting out a tune in the shower. We want anyone who is enthusiastic and keen to be part of what will be a very special performance to get in touch and form part of The Weekend Orchestra – a mass community performance, with all instruments and abilities welcome.
The piece and accompanying will be composed by Michael Betteridge (Artistic Director of The Sunday Boys – Manchester's LBTQ+ low voice choir), and performed alongside the BBC Philharmonic in the MediaCity Piazza during the festival and will form one of key parts of the festival programme.
To apply to take part, please go to BBC Shows and Tours and select whether you will be playing an instrument or singing and whether you're available to take part in the Saturday or Sunday performance (or both).  All levels and instruments are welcome (not just traditional orchestral instruments, although they are of course required and welcome). Similarly, all singers welcome (individuals and choirs)
Please note: We have a maximum number of places and if we receive more entries than we can accommodate, places will be allocated by a random draw on 1st August 2022.
To take part, you must be available to rehearse from 10am – 12pm on the day of the performance (Saturday 10th or Sunday 11th September) with the live performance taking place from 12.30 – 1pm. The performance will be recorded and may be broadcast.
We Invented the Weekend
We Invented the Weekend is a bold and imaginative free festival for the North, from Salford, taking place on Saturday 10th and Sunday 11th September 2022. This brand-new two-day event will throw open MediaCity and Salford Quays' spaces and places, to celebrate the joy of free time, taking in sports, music, comedy, theatre, dance, workshops, talks, food, charity, wellness, crafts and more.
The weekend was invented in Greater Manchester 1843, when Salford Lyceum director and workers' rights activist Robert Lowes (also Sir Ian McKellen's Great Grandfather) campaigned to win workers the right to leisure time on Saturday afternoons. In this triumph, Greater Manchester gave an enormous gift to the world and We Invented the Weekend will honour this, in true style, celebrating leisure time, free time, quality time and me-time.
The festival is in partnership with the BBC, The Lowry, the University of Salford, the Royal Horticultural Society, Science and Industry Museum, The Open University Business School, HOST, Salford Community Leisure, Salford CVS, Sounds from the Other City and hundreds of community organisations from all regions of the city.
Large parts of the programme will be co-created with Salford's and Greater Manchester's communities, alongside content delivered by its internationally renowned culture producers, it will be a festival by the people, for the people, celebrating the region's rich diversity.
We Invented the Weekend is a joint project between MediaCity, Salford City Council and HemingwayDesign, supported by funding from Arts Council England.