Get Fit and Give Back at the Weekend with Bupa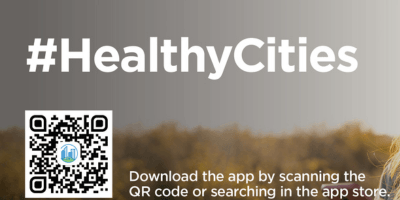 Bupa are our lead event partner for We Get Green and are generously supporting the We Invented the Weekend festival.
Bupa has a fantastic campaign launching on June 1st to challenge people to 'get fit and do their bit'. The #HealthyCities challenge invites you to download the Healthy Cities app, walk 6,000 steps a day in June and in turn they will donate money to the Bupa Foundation to support local communities.
Full information is below, including details of a Green Grants programme where local charities and schools can apply for grants of up to £2,500.
Big thanks to Bupa from We Invented the Weekend!
Bupa's #HealthyCities challenge
Starts 1 June. 30 days of walking. Unlocking £750,000 for charity.
This year, Bupa's #HealthyCities challenge is going global. It's part of our ambition to support one million people to improve their health each year by 2025, through restoring and regenerating nature.
A healthier planet means healthier people.
What's the challenge?
We're challenging people to walk 6,000 steps (or equivalent wheelchair pushes) every day in June, all tracked by the 'Healthy Cities' app.
As our steps go up, so will our donations to the Bupa Foundation. We have £750,000 to help make a better world – supporting regeneration of green spaces in the UK and overseas.
The Bupa Foundation's Green Grants programme opens on 1 June. If you know a charity or school that would like to apply for a grant of up to £2,500, please share this link with them: www.groundwork.org.uk/bupa-foundation-green-grants (applications close 30 June).
Join in. Download the Healthy Cities app today
For every profile, we'll unlock £50 for charity*.
Search 'Healthy Cities' on the app stores, or scan the QR code.
Create a profile and link it to your smartphone or wearable
Join team: "UK – external guests"
Get moving!
If competition's your thing – see where you end up on our leader board alongside thousands of Bupa colleagues. As well as raising money for charity, you might win a prize.
Want to know more? Read about #HealthyCities here.
Let's get fit and do our bit. Every step counts.
#HealthyPlanetHealthyPeople
*up to the value of £250k